Open Doors: Teaching and Learning Law for Justice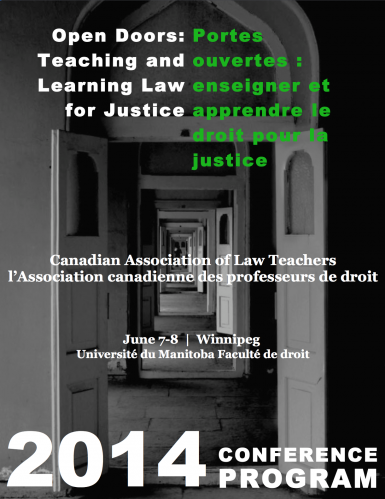 Annual Canadian Association of Law Teachers Conference (CALT)
In June, CFCJ's
Nicole Aylwin
travelled to Winnipeg to take part in the annual
Canadian Association of Law Teachers Conference
(CALT), "
Open Doors: Teaching and Learning Law for Justice
The conference explored questions related to how law teachers and programs of legal education can promote access to justice and support ethical responsibilities around justice. Nicole presented a paper, which was co-authored with CFCJ's Trevor Farrow, on the panel entitled, "The Promise and Peril of Producing 'Practice Ready' Lawyers: Curricular Reform, Decolonization, and Access to Justice".
"Access to Justice, Professional Consciousness and Legal Education"
---
CFCJ Research Alliance members
M. Jerry McHale
(University of Victoria), and
John-Paul Boyd
(Canadian Research Institute for Law and the Family) along with The Honourable
Justice Thomas A. Cromwell
of the Supreme Court of Canada also presented at the CALT conference. Their presentation addressed the urgent need for reform in the family justice system, and the role that law schools and legal educators can play in this process.
"A New Approach to the Law on Domestic Relations: Social Responsibility and the Practice of Family Law"